PharmDr. Margit Slimakova / Nutrition & Health Coach
If you live in Prague, or anywhere else in the Czechia, but don't speak Czech, then this page is just for you. I have put some basic information here in English, and would be happy to hear from you — with any questions, suggestions, or requests for help or consultations that you might have:
---
Nutrition and Health Consultancy
From personal experience I know that maintaining your health and nutrition while living or traveling abroad can be a real challenge. Even in Czechia it may be difficult to find good quality food and ingredients. I would like to help you not just with establishing healthy life habits in the Czech environment, but I can also advise you about buying quality food products on the local market.
I provide nutrition and health consultations via telephone, Hangouts or Skype, and in my home office in Prague 9 — please contact me for more information. The prices for services are as follows:
One-off initial consultation 1–2 hours + list of recommendations … 95 € / 2,500 CZK
Follow-up consultation 20–45 minutes … 40 € / 1,000 CZK
Special offer: 1 initial consultation + 3 follow-up consultations … 190 € / 4,800 CZK
1 hour telephone or Skype consultation … 95 € / 2,500 CZK
All prices include 21 % VAT, and I reserve the right to make changes,
Bank account: 446219242 / 5500 (Raiffeisen Bank)
My Credentials and Career Milestones
Practically my whole life has been devoted to health, illness prevention, and nutrition. I studied pharmacology and nutrition and have lived in Germany, China, France, and USA. In my work, I use proven findings from all branches of medicine, and I place great emphasis on prevention. I mainly deal with providing consultations and public education in this field. I publish articles, give lectures, organize seminars, I also wrote a bestseller on healthy lifestyle and founded Globopol, the first Czech think-tank dedicated to health and nutrition. I have three children, and our family lives in Prague.
2018

Bestselling book A Very Personal Book on Health (3 reprints within 6 months since being published)
Instagram; appearances on major Czech media outlets DVTV, Czech Radio, OnaDnes, Aktualne, Nova; lecturing at a conference for physiotherapists, Happiness at Work, The Art of Being a Woman, etc.

2017

Founder of Globopol, the first Czech think-tank dedicated to health and nutrition
Executive producer of the viral music video feat. famous singer-songwriter Pokac to support local food consumption and local farmers for the Czech Ministry of Agriculture

2016

Successful campaign to prevent Czech school kids being sold sweets and junk-food at schools in support of The National Institute of Public Health
Organization of a prevention programme for school kids and students to move and exercise with hip-hop artist Marcus Revolta
Organization of the first Czech Food Revolution Day in cooperation with 50 schools and companies, including a viral music music video and an open air event by the Vltava River in Prague
A scientific article published in Green Foods: Myths and Facts in the Czech magazine Practical Pharmacology
Public appearances at conferences on IBD (about Crohn's disease and ulcerative colitis), The Art of Being a Woman (Slovakia), The Future of Human Nutrition, at the Colours of Ostrava festival and lecturing at Czech Technical University in Prague, Tomas Bata Hospital in Zlin and for companies like HP or Ceska Sporitelna (Erste group)

2015

Completion of Advanced Master's programme at the Pharmaceutical Faculty of Comenius University in Bratislava — doctor of pharmacy, PharmDr.
Successful campaign with SZŠ for healthier school canteens, snack bars and vending machines
Dozens of well-attended lectures, speeches and appearances, e.g. for Socialbakers, ČVUT University, Sama Doma TV show, Techmania Plzeň and many more

2014
2013
2012
2011

Accreditation by Czech Ministry of Education for courses in natural child healthcare for teachers
Re-launching of consultation and teaching activities in the Czech Republic after extended stays abroad

2010
2007, Exclusive import of NaturComp mini computers for natural birth control and family planning
2006, Nutrition & Wellness Consultant certification from the professional association AFPA (USA)
2004, Certification as an Ernährungsberater nutritional consultant by IFE Brinkhaus (Germany)
2003–2005, Private nutritional consultancy in Shanghai, China
1996, Chief author of the book A guide to healthy cuisine (Eminent)
1995, Study trip aimed at healing through diet and lifestyle changes (Wildwood Lifestyle Center and Hospital, USA)
1993–1995, Nutritional consultant at Institut celostní medicíny
1993

Successful completion of 5-year Master's Degree pharmacology studies at the Pharmaceutical faculty of the Charles University in Hradec Králové with my dissertation on the subject of The Health of Children on Alternative Diets (clinical study)
Professional homeopathic education (Institut Rhodon, Prague)

1992, study trip to an ecological farming company Country Life (France)
1984–1988, studies at the Secondary Medical School in Brno
Contact me
The best way to contact me is to send an email with some details about what kind of help or advice you need:
margit@margit.cz
However, if there is an emergency, you might prefer to call me directly on my cellphone. I would either take your call immediately, or call you back later, when I am available:
+420 606 363 018
For the consultancy, you may also need my street address in Prague:
Margit Slimakova
Meinlinova 18
Praha 9
19016
Healthy Plate
In 2012 I created a visual aid for putting together a well-balanced diet. Healthy Plate is a new variant on the outdated Nutritional Pyramid, which is unfortunately still used in a number of EU countries. The composition of the plate reflects modern scientific findings; shows the best way to maintain a healthy body and a healthy weight; creates a solid foundation for overall health; and supports the prevention of illnesses, as well as more effective ways to recover from them.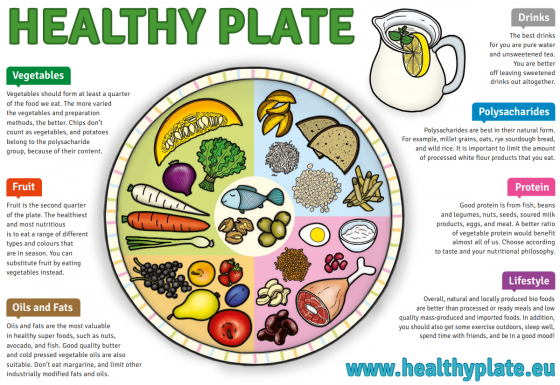 Source: I was inspired by My Plate, based on the recommendations of Harvard and PCRM
DOWNLOAD: Healthy Plate for well-balanced meals (as in the diagram above) and Healthy Plate without pictures for writing menus, or colouring and educational activities for children